SPRING GAMES!!
Children are invited to come to the Morristown-Hamblen Library Children's Room for fun games, including darts, cornhole, and stack 'em.  Everything is free, so come and enjoy some family time at the library!
---

Story Time at the Library
The Children's Library offers programming for young children on Wednesday mornings from 10:30-11:30 a.m.  We enjoy stories, songs, nursery rhymes, music, dancing, snacks, and play time.  Activities take place in the Community Room.
Online Storytime videos are posted to our Facebook page every Monday morning at 10.
---
Family Steam Night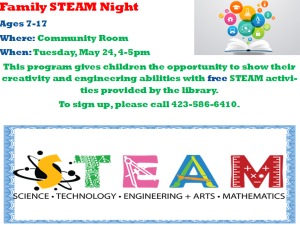 Family Game Night

Join our new Youth Services Librarian, Amanda, in the Community Room for Family Game Night.
Quilting

Lego Club
The May Lego Club meetings will be held on Saturday the 14th and Saturday the 28th at 12 noon.  Please call (423)586-6410, or come by the front desk to reserve your spot.

IMPORTANT:
Lego Club will look a little different for a while. We will not be sharing, or trading Lego's between club members. Each child will have their own portion of Lego's to build from. We will have building stations spread out to encourage social distancing. Masks are not required but are encouraged. The Lego's will be cleaned after each meeting.
If you have any other questions or concerns, please give us a call!
We are so excited to see everyone, and see what cool creations you will build!
It's going to be AWESOME!!!
---
COMING SOON
2022 Summer Reading Program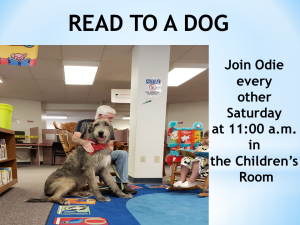 Read to a Dog Program
Therapy Dog Odie is coming to the Children's Library every other Saturday at 11am.   Come and share a favorite book with him!
Our Read to a Dog program welcomes children to come and practice their reading skills.  Have fun while improving your reading skills with one of our therapy dogs.  If you can't read yet, you can look at a picture book and explain in your own words what the book is about.  The dogs love to listen to you!  All children and their families are invited.
---
Other special events and holiday programs are held during the year.  Please check with the Children's Librarian for the current program schedule or view our current events calendar.
---