NOTICE:  Many in-person library programs have resumed.  We can't wait to see you back in the library!  Please look for updates on our Facebook page.
May 14th and 28th
The May Lego Club meetings will be held on Saturday the 14th and Saturday the 28th at 12 noon.  Please call (423)586-6410, or come by the front desk to reserve your spot.

IMPORTANT:
Lego Club will look a little different for a while. We will not be sharing, or trading Lego's between club members. Each child will have their own portion of Lego's to build from. We will have building stations spread out to encourage social distancing. Masks are not required but are encouraged. The Lego's will be cleaned after each meeting.
If you have any other questions or concerns, please give us a call!
We are so excited to see everyone, and see what cool creations you will build!
It's going to be AWESOME!!!
May 17th
Crafts with the Staff
Please call 423-586-6410 or visit the Circulation Desk to register for the May Crafts with the Staff event as space is limited.  All supplies will be provided.
May 24th
Family Steam Night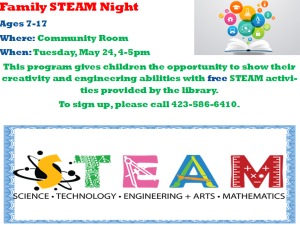 Saturdays
Join us in the Community Room every Saturday afternoon to learn how to make a quilt.
Library Events Calendar  ~ View the goings-on at the library by clicking here for our events calendar.