The Morristown-Hamblen Library Teen Room has been established for teens ages 12 to 19.
Teens will finds events and materials selected with teens in mind.
Family Steam Night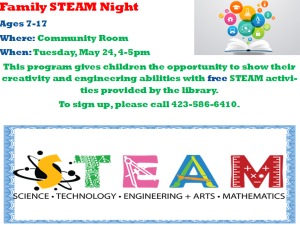 Crafts with the Staff
Quilting

Lego Club
The May Lego Club meetings will be held on Saturday the 14th and Saturday the 28th at 12 noon.  Please call (423)586-6410, or come by the front desk to reserve your spot.
IMPORTANT:
Lego Club will look a little different for a while. We will not be sharing, or trading Lego's between club members. Each child will have their own portion of Lego's to build from. We will have building stations spread out to encourage social distancing. Masks are not required but are encouraged. The Lego's will be cleaned after each meeting.
If you have any other questions or concerns, please give us a call!
We are so excited to see everyone, and see what cool creations you will build!
It's going to be AWESOME!!!
Family Game Night  May 10th
Join our new Youth Services Librarian, Amanda, in the Community Room for Family Game Night.

Download free eBooks and Audio books by your favorite authors.  
Streaming video is also available online!
Watch the video below to see how you can help put a stop to bullying
SURVEY
This link takes you to a survey that will help us improve teen services at Morristown-Hamblen Library! Please respond to help us out. All responses are anonymous.