Adult Summer Reading Program
Thanks to everyone who participated in the Summer Reading Program this year.  You all helped make it a great program!
Special thanks to all of our sponsors who donated prizes and refreshments:
Aubrey's
Cruz Farms
Little Dutch
LongHorn Steakhouse
Knoxville Zoo
Soaky Mountain
Wonder Works
Ultimate Shine Car Wash
Ole Red Gatlinburg

Olive Garden
Panda Express
Smokies Baseball
Zaxby's
Food City
Mossy Creek Miniature Golf
Fun and Fit    Thursdays
We are having a blast on Thursdays!  Come join us for Fun and Fit on Thursdays at 6pm and find out how much fun healthy habits can be!  Sign up is not required, just come join us.  Bring your friends and your positive vibes
Cross Stitch     Tuesdays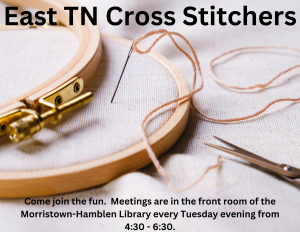 Art Swap at the Library!
September 23rd
Quilt Show    September 29th and 30th
Murder Mystery at the Library
November 4th

We are presenting a fun takeoff on "It's a Wonderful Life" as a murder mystery.  It will be a great show with familiar local actors and dinner is included!  Get your tickets at the library starting October 2nd.
Computer Lessons
Learn about internet searching, email, applying for jobs, Microsoft Office, social media, and more.  Call Bobbie at 423-586-6410 or ask at the front desk about scheduling an appointment.
TRY ZOOM FOR FREE WITH YOUR LIBRARY!  PRACTICE SESSIONS AVAILABLE TO BUILD YOUR CONFIDENCE.
Are you ready to try Zoom, but not sure how to get started?
Zoom is a popular service for videoconferencing over the internet.  You can meet with up to 100 people and see the other participants on live video as you talk.  While staying safe at home, you can use Zoom to visit with family and friends, celebrate birthdays and graduations, meet with your doctor or coworkers, or hold bible studies.
Learn to Zoom by joining a practice session with a Morristown-Hamblen librarian.  Call 423-586-6410 to set up an appointment.