Cross Stitch  –  Tuesdays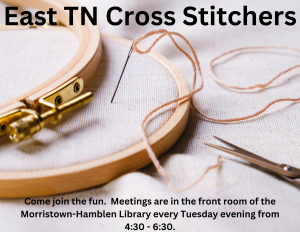 NEW!!   Fun and Fit for Adults!    Thursdays!

A new program started in the fall, and we are having a blast on Thursdays!  Come join us for Fun and Fit on Thursdays at 6pm and find out how much fun healthy habits can be!  Sign up is not required, just come join us.  Bring your friends and your positive vibes!
Crafts With the Staff    March 28th
Make sure to sign up early as space will fill up quickly for this one!
Computer Lessons
Learn about internet searching, email, applying for jobs, Microsoft Office, social media, and more.  Call Bobbie at 423-586-6410 or ask at the front desk about scheduling an appointment.
TRY ZOOM FOR FREE WITH YOUR LIBRARY!  PRACTICE SESSIONS AVAILABLE TO BUILD YOUR CONFIDENCE.
Are you ready to try Zoom, but not sure how to get started?
Zoom is a popular service for videoconferencing over the internet.  You can meet with up to 100 people and see the other participants on live video as you talk.  While staying safe at home, you can use Zoom to visit with family and friends, celebrate birthdays and graduations, meet with your doctor or coworkers, or hold bible studies.
Learn to Zoom by joining a practice session with a Morristown-Hamblen librarian.  Call 423-586-6410 to set up an appointment.