Summer Reading Program is on!
Amanda has lots of great programs planned for this summer.
The Morristown-Hamblen Library Children's Summer Reading Program is for ages 0 to 12 years. This year's theme is ALL TOGETHER NOW. Registration begins on May 17th in the Children's Library. Each child will be given a log card that has reading and listening/activity requirements for each of the 25 squares. Children age 0 to 3 years will have their own special type of log card with activities appropriate for them. Once the card has been completed, it can be returned to the library and redeemed for prizes and entry into the grand prize drawing. The earliest you can bring in a finished log is May 24th. Prizes will not be given once a patron leaves the library. The library is not responsible for lost or missing log cards or prizes, but new cards are available if needed. The last day to bring in a finished log is June 30th. Keep an eye on the library's website and Facebook page for updates about Summer Reading Program events.
We have online versions of the Summer Reading Program brochure and reading logs available below.  Feel free to download them to view and /or print at home.
Please remember that you will need to register in person in the Children's Library even if you print out your reading logs at home.
Pokemon Club    June 13th and 24th

Lego Club    June 6th and 24th
Camp Emotions    June 6th
Snack Attack   June 12th
Little Artists    June 19th
Music and Movement    June 19th
Dairy Month Celebration    June 23rd
Summer Reading Program Events for Children:
Please note that some programs will have a limited number of participants.  Sign-up for these programs will open on May 17th.  We recommend signing up as early as possible for these at the children's circulation desk.  You may also call 423-586-6410 or text 423-301-6882.
Registration day     May 17th
Oliver the Owl    May 25th
Give Me 5    June 1st

Craft Time     June 2nd
How Dogs Work with Us    June 15th
Forensics Challenge    June 16th
DIY Music Makers    June 22nd
The Amazing Magic Show    June 29th

DOROTHY'S GROOVY GAMES!!
Children are invited to come to the Morristown-Hamblen Library Children's Room for fun games created by Miss Dorothy, including darts, cornhole, and stack 'em.  Everything is free, so come and enjoy some family time at the library!
---

Story Time at the Library
The Children's Library offers programming for young children on Wednesday mornings from 10:30-11:30 a.m.  We enjoy stories, songs, nursery rhymes, music, dancing, snacks, and play time.  Activities take place in the Community Room.
Online Storytime videos are posted to our Facebook page every Monday morning at 10.
---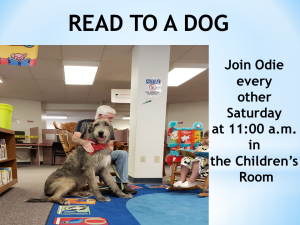 Read to a Dog Program
Therapy Dog Odie is coming to the Children's Library every other Saturday at 11am.   Come and share a favorite book with him!
Our Read to a Dog program welcomes children to come and practice their reading skills.  Have fun while improving your reading skills with one of our therapy dogs.  If you can't read yet, you can look at a picture book and explain in your own words what the book is about.  The dogs love to listen to you!  All children and their families are invited.
---
Other special events and holiday programs are held during the year.  Please check with the Children's Librarian for the current program schedule or view our current events calendar.
---