Please look for updates on our Facebook page
Tuesdays
Cross Stitch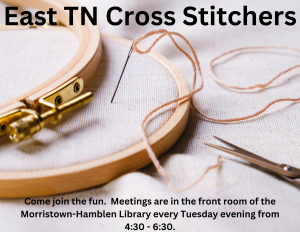 Wednesdays
Thursdays

Fun and Fit for Adults!
A new program started in the fall, and we are having a blast on Thursdays!  Come join us for Fun and Fit on Thursdays at 6pm and find out how much fun healthy habits can be!  Sign up is not required, just come join us.  Bring your friends and your positive vibes.
every other Saturday    Read to a Dog
May 17th    ALL TOGETHER NOW
Children/Youth Summer Reading Program
The Summer Reading Program is on!  Amanda has lots of great programs scheduled for this summer.  Complete your reading log and attend library programs to earn prizes.  The first day to pick up your reading log and start reading is May 17th.  The first day to start turning in completed reading logs is May 24th.  Find more information about the Summer Reading Program on the Children's Programs page or the Teen/Young adult page.
June 1st    Give Me Five
June 2nd    Craft Time

June 3rd    Book Sale
Come out and support our Friends of the Library organization.  You can get some great bargains and help provide more supplies and programs for your library.
June 6th    Camp Emotions
June 6th and 24th    Lego Club
June 8th    Affirmation Jars
June 12th    Snack Attack
June 13th and 24th    Pokemon Club

June 15th    How Dogs Work With Us
June 16th    Forensics Challenge
June 19th    Little Artists
June 19th    Music and Movement
June 20th    Donuts and Art
June 22nd    DIY Music Makers
June 22nd    Crafts with the Staff
Macrame Plant Hanger – repeated by popular demand!
Register at the main circulation desk or by calling 423-586-6410/texting 423-301-6882.
June 23rd    Dairy Month Celebration!

June 29th    Magic Show
July 14th    Meet the Author:  Amy Curry
September 23rd    SAVE THE DATE!! Art Swap!